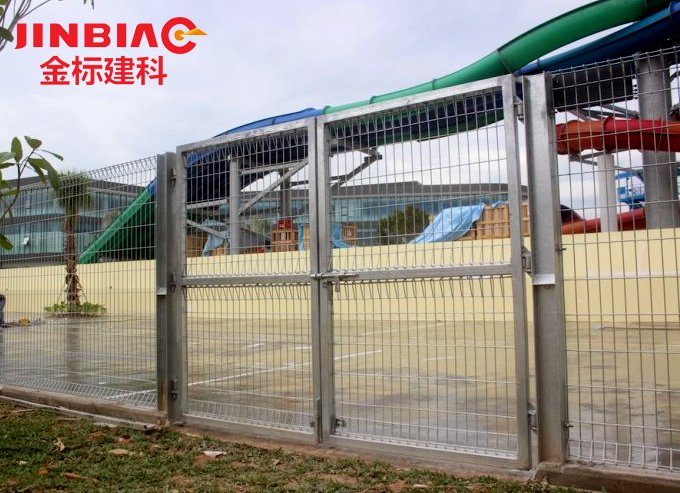 Metal mesh fencing is an excellent way of screening, separating, shielding, and structure defining. It is the perfect safety barrier where visibility across the fence is required. Metal mesh fencing gives your area a high-security wall and a fancy look. It serves the range of security, safety, and border enclosure goals either in a residential area or commercial occupancy. A metal mesh is a woven or welded wire network with different materials having variable thicknesses (gauges); it is mainly used for fencing. Metal mesh fencing is easy to install and doesn't cost much.
Properties of the metal mesh
The strength of the metal mesh fencing that needs to be used for fencing depends on the raw material and width of the wire. Common gauge for metal mesh fencing ranges from 8.5 gauge (0.155 inches) to 27 gauge (0.0173 inches). Nine-gauge (0.1483 inches) metal mesh is used more often for fencing. Further, the gauge and mesh opening depend on the fence's purpose for which it is being installed. Iron, stainless steel, and aluminium wires are used for metal mesh–welded mesh is stronger than woven mesh, and iron has more strength. It is coated with different materials to add aesthetics and durability to the metal mesh fence. We can differentiate metal mesh as:
Galvanized metal mesh
Powder-coated metal mesh
PVC coated metal mesh
Colored/painted metal mesh
Stainless steel (zinc-coated) etc.
Durability of Metal mesh
The coated metal mesh in Singapore is durable as it resists quick rusting or decay. While buying a metal mesh fence–the type of material, opening size, weaving design, mesh opening, and wire gauge are the most important considerations that a customer follows. All these metal mesh properties directly or indirectly link to the objective of fencing; metal mesh fence can be used as:
The high-security barrier in offices, residential buildings, or any other possession/occupancy
Preserving reservoirs, animals in zoos, and plants in botanical gardens, etc.
Border a country as a primary defense line
Colored metal mesh fence around the home garden, swimming pool to enhance the aesthetics of the area.
The metal mesh fencing is cost-effective; it is easy to install, cost-effective, and imposes a little burden on the fence of any residential or commercial area. Choosing the right metal mesh fence with long-lasting durability and other general properties is not an easy task.
While deciding to pick the metal mesh fence, you look for:
Whether it is permanent or temporary?
Is it the mesh or appearance that is more important?
What are the potential environmental factors that are going to shorten the lifespan of the fence?
What will be the length, width, gauge, material, and mesh size of the metal mesh fence that better suits your requirements?
Metal mesh in Singapore is available in wire mesh netting, rolls, and panels (surrounded by wooden or metallic frames for easy installation). Further, both the welded and woven mesh; usability and durability differences exist in both types. However, sometimes one cannot be the alternative to another under specific circumstances. That is why you need to choose a metal mesh fence service provider to get a suitable fence.
Hebei Jinbiao is a leading company in Noise Control products and Fencing products in Singapore. We guarantee to provide you with the most high-quality Noise Control and Fencing products along with our dedicated assistance. Do not hesitate to contact us. We are looking forward to helping you solve your noise issues, safety issues and protect you from noise pollution as well as ensure your safety.