Temporary Fence - Plastic Base
What is Temporary Fencing/Fence? What is Temporary Fence with Plastic Base?
Temporary Fencing is an alternate version of Permanent Fencing, which is used for temporary purposes. While its counterpart, Permanent Fencing is used for long-term purposes, this type of Fencing is used for short-term projects.
It is a free-standing and self-supporting type of Fencing.
It is known for its portability, flexibility and cost savings.
A Temporary Fence can be integrated with a Base made from Plastic for better stability.
What is Temporary Fencing used for? What are the benefits of installing Temporary Fencing with Plastic Base?
The temporary fence (Australia type) consists of solid mobile panels, particularly suitable for fencing off construction and industrial sites and events. This temporary fence protects against theft and vandal and keeps people out of danger.
It can be used for creating confined areas, indicate the boundaries or separate zone for crowds.
High quality
Easy to set up and shift (save manpower)
Long life usage
Save space for storage
Hollow footing can be filled with concrete or water 
Integrated with high-quality Temporary Fence clamps to secure the Fence panels together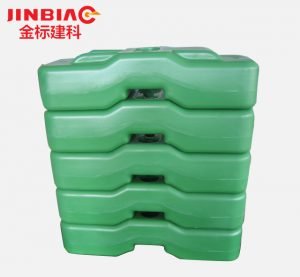 Made out of a rigid steel frame with welded pre-galvanized tubes
Each wire is separately welded onto the frame
This robust construction combined with galvanized tubes guarantees a long-lasting durability
Why Hebei Jinbiao is your ideal Temporary Fencing supplier and installer in Singapore and South East Asia?

Our products are tested rigorously
We have experience working with clients in a variety of industries in both private and public sectors
We use the most qualified materials and emphasize Sustainability in every product
Our team consists of experts who are always willing to assist our clients from consultation to after-purchase 
With our parent company and factory located in China, we guarantee to offer our clients a Factory Direct Price
We offer Customisation, which is not commonly available in the market
You can take a look at our other Fencing products here and our Noise Barriers here
The cost will be different for each project, as every project has different site requirements and specifications. It will also be based on the materials' costs at the time of quotation.
Please leave your information to us by filling in the box below, our Specialists will get in touch with you immediately.
Yes, we are not only the supplier but also the installer. With our experience in installation, we guarantee to help you install the Fence in the shortest time.
We offer FREE consultation service. No matter if you decide to proceed with us or not, we are very happy to offer you advice on how to solve your issues.
Uses of Temporary Fencing
Temporary fencing is used for a variety of purposes. Unlike permanent fencing, temporary fencing structures are made of panels that are easy to set up and install. These panels are interlocked by couplers, so they can be cut in between to cover a specific distance, or reconnected if the area in which they will be used is bigger and wider.
This type of fencing is not secured to the ground, but it is held secure by heavy braces that allow it to stand freely and maintain stability.
Temporary fencing is more advisable over permanent fencing during specific occasions, mainly because of their flexibility, portability, and short-term function.
Some of these instances are: