---
Canberra, just a few minutes drive from our Sales Office brings much excitement rather than the old saying – its just another Ghost Town. Where it used to be (just an abundant land with DIY motor track and natural pond), Canberra is turning into be something different, something more vibrant and exciting.
1) Canberra MRT Station

Valued at 90 million Singapore dollars, Canberra MRT station is the latest addition to the North South Line (better known as the Red Line). As early as the 1990(s) station by station was added to the 'Red Line' to make traveling by public transport more accessible – latest one will be this one. It will be an infill station that are made up of side platforms – a method to add on to the already functioning track. This project, announced on 2013 was commenced on 26th march 2016 and is on 'track' to end on 2019 December. Now, have you been wondering why there was no NS13 on the line all this while?
2) Bukit Canberra
A place where all the activity can take place. It is not often we see a project that is combine with man-made infused with natural habitat. The Bukit Canberra, however, will feature just that. Here are the things that can be found there:
Public indoor and outdoor swimming pools

An indoor sports hall with 500 seats

Three kilometers of outdoor running trails — with varying levels of difficulty — set on natural terrain

A "food forest" and "fruit orchard", featuring edible crops such as the Cocoa tree and Roselle plant

A community garden

A hawker center

A polyclinic

A senior care center

A preserved historical building — Former Admiralty House — for educational purposes
3) Sembawang Hot Springs Park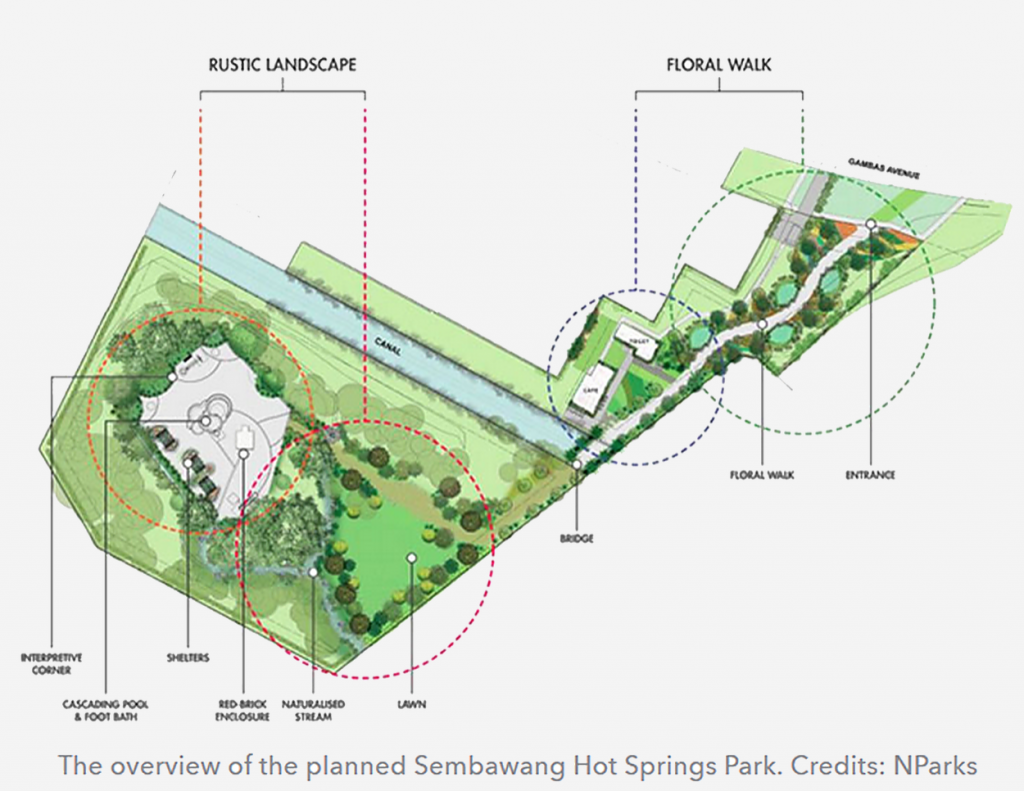 Once used to be just a level of concrete cement with some piping running natural hot water, are not going to be developed into something unique yet exciting place.
Many new additions and features such as a cascading pool and foot bath will be added into the already interesting sight in Singapore.There will also be a café and a floral walk in a "kampung-like" setting – a place where many can just sight see and take a walk to relax.
4) North-South Corridor
Thankfully, Canberra residents will get another expressway option to the CBD by 2026. That, in another words is more minutes lesser to reach the Central Business District.
This multi-million project serves more option for commuters to travel – either by Permanent Bus Access, Park Connector or normal connecting expressways. The North-South Corridor (NSC), as this 21.5km route is called, will run both underground and above ground from Woodlands.
5) Canberra Plaza
Canberra residents will have their very own shopping mall in 2019. The site of the mall will also be connected to the upcoming Canberra station by a bridge.
When it's up and running, residents of Canberra can satisfy all their daily needs at the three-story Canberra Plaza. Canberra will definitely will be named a mixed urban greenery location as this plaza will also boast communal facilities such as an "estuary-themed" event plaza and a water playground for kids.
When all this is done, Canberra will most likely be lively and colorful most probably. Yes, it is reportedly going to be done in stages and all this project would not be done one shot, the thought of having all this  places gives excitement to all.
Where Canberra was once only a place found in Australia